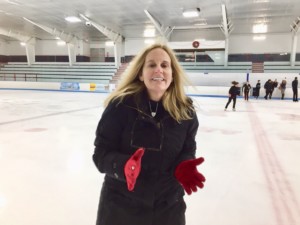 Deborah Wilker is a USFS Gold Medalist in Figures, Freestyle and Moves In The Field.
She is a three-time North Atlantic Champion and six-time North Atlantic medalist, as well as a five-times Easterns Sectionals competitor and silver medalist.
At the senior level she was the Providence Open champion, Lake Placid Open champion and North Atlantic silver and bronze medalist.
Deborah is an expert in breaking down jump entrances, air positions and landing positions — and has a long track record helping skaters achieve optimum height, rotation and control.
Deb teaches singles skaters of all levels and also enjoys team teaching. Her chief areas of expertise include:
Speed, Edges
Compulsory School Figures
Jump Technique
High-Performance Mindset and Motivational Skills for Skaters of All Levels
Pristine Basics
Bridge Classes and Workshops for Skaters Moving Out of Group Lessons
Calming Nervous Skaters
Deb grew up training at the Peter Burrows Skating School in Port Washington, N.Y., where she worked with World and Olympic coach Evelyn Muller Kramer.
Later in her career, Deb moved to the Broadmoor World Arena in Colorado Springs to skate under the guidance of World and Olympic coach Christy Krall and choreographer Jack Raffloer.
She is one of few skaters to pass every USFSA figure test – Preliminary through 8th-Gold – on the first attempt and was an early participant in the Lake Placid Olympic Training Camp (the precursor to Champs Camp).
After leaving competitive skating, Deb toured professionally with The Ice Capades and later signed with Holiday On Ice in Europe.
She holds a Bachelor of Arts degree from the University of Miami and spent much of her professional career working in television, media and print journalism.
She has an extensive arts, theater and dance background — training with Luigi, Frank Hatchett, Maurice Hines and Eddie Zawacki in New York, and Patricia Strauss and Freddick Bratcher in Miami. She returned to skating in 2009 and continues to write about the arts for global news organizations.
* * * * *
Hi skaters — thank you for stopping by!
No matter how highly trained, or how skilled a communicator — no skating coach can guarantee that any skater will become a champion, or even master basic moves. My own training — which includes more than 20,000 of practice over my 11-year competitive career — has taught me that there are far too many variables for "performance guarantees" — key among them: An athlete's natural ability, individual perseverance and time devoted to the sport.
However, I do make the following personal guarantees to every student who takes a lesson with me:
-After every lesson my students will always have more knowledge about the sport than they had when our lesson began.
-I will always do what is in the best interest of my students.
-I will never recommend a product, service or training scenario that isn't useful.
-When something is over my head or I just need another opinion, I will always turn to a coach whose judgment I trust.
-When needed, I will always refer students to coaches whose work, approach and training I know to be first-rate.
Thank you for your trust in me. To book lessons please click here.
– Copyright Deborah Wilker and skatewithdeb.com 2018 –